Discover the latest partnerships between FFIXV, Fall Guys, and KFC. Uncover the fresh content and rewards that await you in both games, and learn how to indulge in FF14-themed meals at KFC, along with in-game goodies!
Final Fantasy XIV has unveiled two unexpected collaborations: one with Fall Guys and one with KFC. These collaborations will introduce novel content and in-game rewards, as well as exclusive meals and merchandise for KFC patrons.
Fall Guys
The FFXIV x Fall Guys collaboration was disclosed earlier this year. During Tokyo Game Show 2023, Naoki Yoshida, also known as Yoshi-P (Producer and Director of Final Fantasy XIV), divulged further details about this collaboration: a fresh Battle Royale mode inspired by Fall Guys will be incorporated into the Manderville Gold Saucer.
This new Battle Royale mode for FFXIV, slated for release in the upcoming Patch 6.5x series, will encompass comparable gameplay elements and challenges, allowing players to team up with friends and rivals alike.
The collaboration extends to Fall Guys as well, where players can still acquire costumes and rewards based on FFXIV characters and creatures. The Warriors of Light Fame Pass will remain available until October 3, 2023.
KFC x FFXIV
This novel KFC collaboration was announced shortly after the conclusion of the Tokyo Game Show 2023 Live Letter. In partnership with KFC, FFXIV enthusiasts residing in Japan or visiting Japan can relish special meals and items inspired by the game at any KFC establishment across Japan. The collaboration will commence on Wednesday, October 4th, 2023.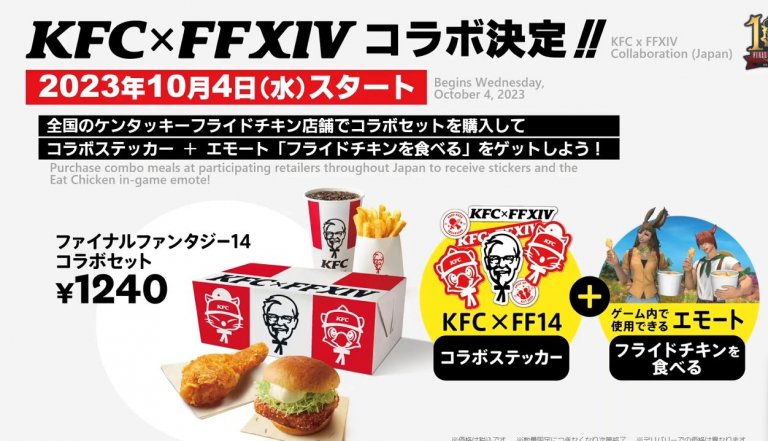 A variety of FFXIV-themed meals and merchandise will be available at KFC, including chicken buckets adorned with FFXIV logos, and much more. KFC customers will also receive codes for exclusive in-game items, such as a KFC-themed emote.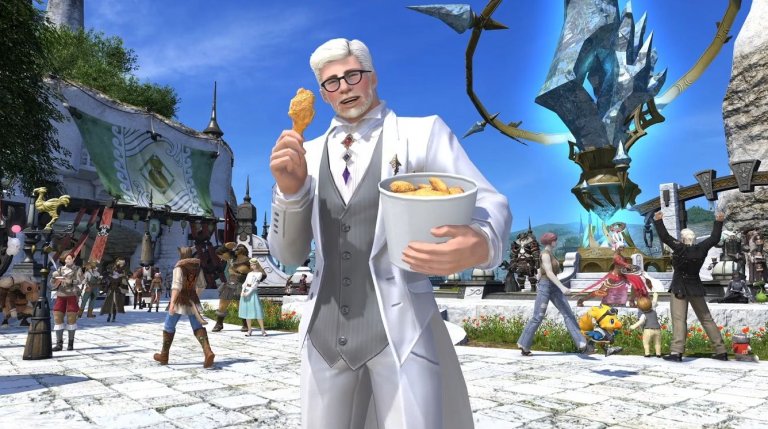 Collaborations like these are an enjoyable and unforeseen addition for any fan of Final Fantasy XIV. However, it remains uncertain whether the KFC partnership will extend beyond borders and reach Europe or America in the future.